You don't have to buy your way to a cleaner Earth, in fact, we cannot buy our way to a cleaner Earth. Over consuming is a major problem our environment faces today. However, when we do need to buy things, we can make environmentally responsible choices! I'm not here to tell you that you have to buy something right now to save the Earth, but next time you are in the market for anything from cleaning supplies to a new swimsuit, I recommend the Eco Girl Shop and here is why:
The Eco Girl Shop is a one-stop-shop for many essential items and some sexy + sustainable ways to treat yourself. They partner with people and companies committed to sourcing better materials, reducing waste, and leaving a smaller footprint. You can shop online based on value – organic, vegan, handmade, plastic-free, made in the USA, and reusables. What an awesome way to organize the store! You can also shop categories like makeup, for the kitchen, and healing products. The Eco Girl Shop is committed to sustainable shipping. They used reclaimed materials to package items and often ship directly from the artist/supplier to reduce carbon emissions from extra travel. Now let's get into my favorite products!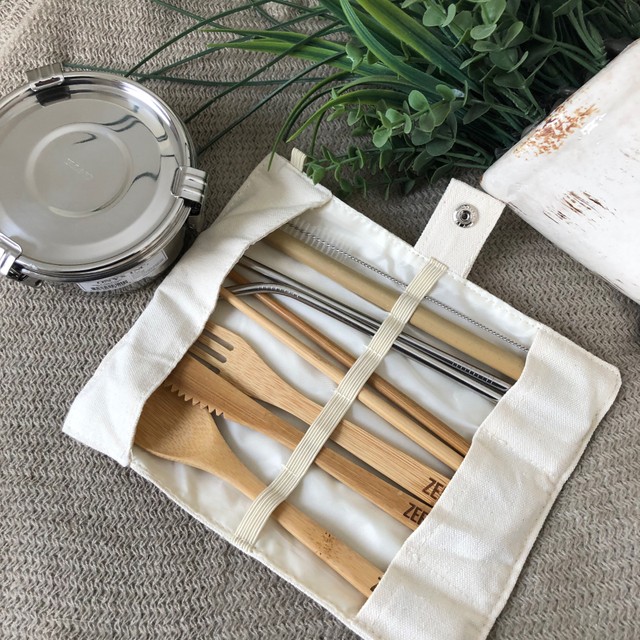 My Recommendations:
My favorite low waste swaps
Reusables
Originally I had a difficult time remembering to bring utensils with me to avoid single-use plastic until I got a super-duper cute kit that I now carry everywhere because I want to show them off 😉 The Eco Girl Shop sells utensil kits in few different styles. I recommend this reusable utensil kit because I love using bamboo, I love how the set rolls up and ties, and I love that it comes with a napkin. I think most reusable silverware to-go kits are missing the napkin and its essential!!
One of my most recent swaps was bees wrap. I had heard about bees wrap for a long time and always wanted to try it. I finally bought some and have been loving it for wrapping fruits, snacks, or leftovers. Bees wrap smells amazing – like honey – it's antibacterial, and can be used again and again! The Eco Girl shop has plenty of cute prints and patterns to choose from.
My most recent swap was a tea diffuser! Honestly, I took my time making this swap and I will not be turning back. I am an avid tea drinker and have found there was no point in tea bags! Loose leaf teas are often higher quality and it's easier to find more variety. Have you ever been to a tea shop? Tea varieties are seemingly endless! I tried Japanese tea with rice in it the other day! wow.
Another swap I should have made earlier were reusable produce bags. I thought plastic produce bags at the store were an absolutely outrageous waste of plastic, so I would throw loose fruits and vegetables to roll around in my cart while I shopped. Investing in produce bags is well worth it! They are durable and easy to wash.
One of my more recent swaps was purchasing reusable silicone snack bags. I use to try to reuse single-use ziploc bags, but inevitably they would rip or I would lose them. The reusable snack bags on the Eco Girl Shop are high quality – there is no easily ripping these and they are very easy to wash. Investing in products like these reduce the risk of losing them because they are cute and nice and made to be reused; whereas, it was so difficult when I was trying to keep track of reusing single-use baggies that are not made for that.
Laundry
I have my auntie to thank for teaching me about this low waste laundry swap. Years ago I learned what dryer sheets are – a polyester sheet laced with a repulsive conglomerate of toxic chemicals. I did not know there were other options so I stopped using anything in my dryer altogether. Then I discovered these wool dyer balls – they fluff up clothes in the dryer and can be reused again and again. Pro-tip: put a few drops of your favorite essential oil on the dryer balls before starting the dryer and your clothes will smell luxurious.
Personal Care
Shaving with conventional razors can produce an immense amount of waste and cost a lot. One of my very first low waste swaps was a safety razor. They are a little different than conventional plastic razors and require a little more patience, but I love mine for many reasons. In the long run, they save an incredible about of money. I originally bought my kit with 10 blades for $30 almost 2 years ago and haven't used all the blades – so much money & waste shaved! The interweb told me blades should be changed every week; however, I change mine every couple of months because it stays so sharp, but this depends on how often you shave and if your blade starts to rust. I recommend not keeping the razor in the shower to dry and prevent rusting.
I used to make my own lip balm in biodegradable containers because I lived in Colorado where the air sucked all moister from my lips and I was sick of going through seemingly endless plastic tubes of chapstick. I actually discovered that natural lip balms like this zero waste lip balm and the one I made myself work exponentially better than conventional kinds. Conventional chapstick and lip-balms are often designed to make your lips peel so you basically become addicted to using the products! yuck! This vegan lip balm uses ingredients like coconut oil, vitamin E, and cocoa butter to moisturize and protect!
One of the most luxurious swaps I made was using solid lotion bars. I remember as a kid, my mom received a lavender lotion bar as a gift and I thought it was just the coolest thing. I forgot about lotion bars until I started shopping at Lush and was reminded of how amazing lotion bars are. Not only do they have ZERO packaging waste, I prefer them over bottled lotion because it leaves my skin feeling deeply moisturized and thoroughly protected due to thicker ingredients required to turn lotion into a bar. Perfect for some post-shower self-care 💜
My very first low waste swap was born out of pure necessity. Four years ago I worked on a wilderness trail crew restoring hiking trails. For the first time, I was going to be living in the wilderness during a menstrual cycle. I did not really know what to do…. I knew I would have to pack out any waste I created, but I could not imagine hiking with a bag of used feminine products in my pack. Luckily I was on a crew with other women who taught me about menstrual cups. I've kept using them because they are incredibly more comfortable than tampons, no leakage, no waste, and they last up to 12 hours at a time. What else can you ask for?! The menstrual cup on the Eco Girl Shop is the typical size and shape, but we are not all the same size and shape. They take a little bit of getting use to, but if this one just does not work, plenty of other shapes and sizes are sold and I will be writing about all the options available to us!
Sunscreen
In my last semester of college, I learned the science behind harmful sunscreens in my Oceanography class. Some sunscreens that say "reef safe" are not reef safe and there are no regulations for companies using that term. This sunscreen at the Eco Girl Shop is reef safe and safe for you! When shopping for a sunscreen you want non-nanosized titanium dioxide and/or zinc oxide as the active ingredients because the size of these particles is not able to penetrate your skin or the membranes of coral! This sunscreen also comes in a metal tin to reduce plastic. yay!
What I am swapping next
Bathroom
Two of my next swaps I am most excited to make are shampoo bars & conditioner bars. No packaging waste and no water weight! I am so excited to smell the coconut lime conditioner bar.
I have been lucky enough to live in a house that had a bidet and let me tell you it was life-changing. Using toilet paper does not make sense when a bidet thoroughly cleans every time you go to the bathroom! This Tushy bidet is easy to install and doesn't require electricity. As the Eco Girl Shop says "Once you go bidet, you don't go back!" I will be investing in this as soon as I have my own place.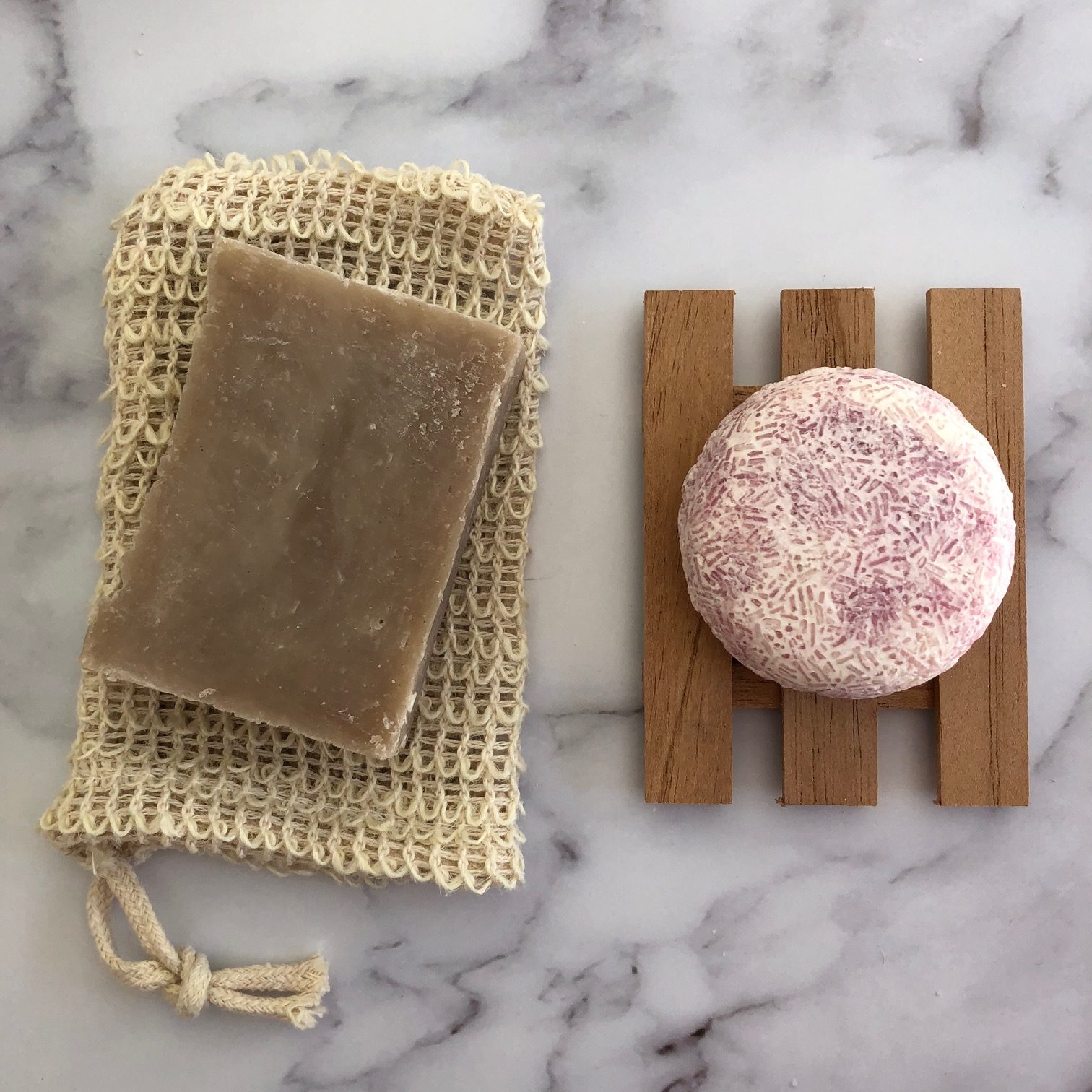 Makeup
I will also be investing in reusable makeup pads! I have wanted to make my own for a while, which might be the more sustainable solution and would be cheaper, but I just have not made the time to do so! No more buying cotton rounds or makeup wipes – these babies look soft and can be reused endlessly. The Eco Girl Shop says, "One pound of cotton takes about 5,000 liters of water to grow. Reusable makeup remover rounds replace disposable cotton rounds or makeup wipes to reduce waste."
About a year ago, regrettably, I decided I was going to become a beauty guru and purchased *a lot* of conventional makeup. At the time I did not realize there was such a big movement for low/zero waste, natural makeup (someone did not do her research lol). Now, however, I am a brand new woman and have discovered the glories of makeup in the low waste movement. High among my swap wish list is this River Organics highlighter. I am a huge fan of these biodegradable paper tubes and the shimmer looks stunning!
Along with the makeup topic, I am dying to start trying some low waste concealer and powder foundation. This concealer is also made by River Organics, comes in six different shades, and only contains natural ingredients – no endocrine disruptors, which are commonly found in conventional makeup.
Laundry
Another swap I have heard about for a long time is using soap berries instead of laundry detergent. The Eco Girl Shop says soap berries produce a "naturally occurring surfactant when agitated in water which gently cleanses laundry." This package from the Eco Girl Shop is good for 360 loads. That's like 7 years of laundry if you wash your clothes once a week for only $30!! I am making this switch right now!
Sustainable Luxury
The Eco Girl Shop has a beautiful variety of sustainable swimwear. Most of the suits are made from recycled fishing nets. I love my swim bottoms made from fishing nets! Fishing nets and other discarded fishing gear make up the majority of trash polluting our oceans and harming wildlife. What a creative way to keep fishing gear out of our oceans!
I also love these sustainably sourced wooden earrings. Jewelry is not an area I often consider when thinking about environmental responsibility because almost all of the jewelry I own is second hand, but my next treating-myself purchase just might be these honeycomb earrings.
Thank you for visiting Eco Fairy Tales! Sign up for the mailing list to receive notifications when new articles are posted!
I hope this article was helpful. I am excited to be working with the Eco Girl Shop. This post does contain affiliate links, which mean I earn a small commission for recommending you to the store if you choose to buy something. I won't recommend anything I don't use myself or plan on using myself.
Love you always, Abigail Dean ♥️